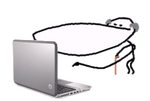 Mate! you gotta help me out here!
This page is a stub, edit this page to help it grow. Come on mate, I know you are reading this!
 My Patreon Campaign is a YouTube video uploaded to GradeAUnderA's Channel.
Synopsis
The whole video is about Grade promoting his Patreon page/campaign. He talks about the prizes that patrons can benefit from after they pledge money to him. He also talks about his goals and joking if the $10,000 goal has been met then his parents would give him the title of "Favorite Son".