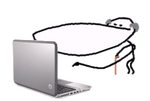 Mate! you gotta help me out here!
This page is a stub, edit this page to help it grow. Come on mate, I know you are reading this!
In this video, GradeA explains phobias and his own phobia of spiders (espically quick spiders).
He starts out with Dictonary(.)com's definition of phobia before saying he doesn't like the word irrational. He quickly moves on to his fear of spiders except for the Harvestam Spider. Grade admits to not telling different spiders apart along with explaining some of the deadliest of spiders. Grade criticizes Latin words along with the English alphabet and lists other phobias that relate to the English alphabet. He inserts footage of the late Steve Irwin during the Irrational segment of the video. He concludes with listing a few phobias before inserting a clip of Spongebob screaming.